The trick that turned seven bags of cocoa into 25
Digital technology is helping to transform the lives – and profits – of farmers. From apps to the blockchain technology behind bitcoin, farmers and smallholders are discovering new ways of doing business.
Take Muhammed Adams, a cocoa farmer from Sefwi Madina in the remote western region of Ghana, who has been growing cocoa in the same way for 25 years.
Over the last couple of years, however, the Olam Farmer Information System (OFIS) run by commodities giant Olam, has helped him more than triple his output – and reduce reliance on pesticides.
"Before I received my OFIS farm development plan I was harvesting seven bags of cocoa," Mr Adams says. "But last year I harvested 25 bags thanks to the changes I've made."
The Olam technology puts him in direct contact with advisers. When, for example, Mr Adams has an outbreak of disease, he's learning that resorting to chemicals is not the only answer.
"The training I have received has showed me I don't need to spray my cocoa so much with pesticides, saving me a lot of money and helping me grow more cocoa," he says.
"The technology has really helped to bring the world closer to me."
It's a heartening tale, given the World Economic Forum's prediction that food production must rise by 50-100% by 2050 to keep pace with population growth.
But with farming in crisis in many parts of the world, can technology really help the agricultural sector meet this seemingly unfeasible target?
Simon Brayn-Smith, head of cocoa sustainability at Olam, thinks so: "We have really been focusing on digital initiatives over the last 18 months."
The OFIS app collects farm data, and uses algorithms to make personalised recommendations to farmers about how to increase their yields.
Olam apps allow products to be tracked when leaving the farm, and farmers can check cocoa prices and trade online, achieving a better price for their crops.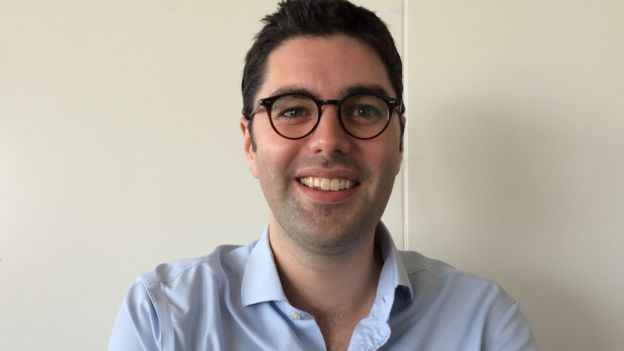 Simon Brayn-Smith thinks the supply chain will be fully digitised within 10 years
Says Mr Brayn-Smith: "Olam Traceability is digital-payment enabled, so we can pay farmers direct into their mobile money wallets.
"And Olam Direct, currently being piloted in Indonesia, allows us to offer farmers a much better daily price at which they can sell, say, 50kg of cocoa to us direct."
But there is still a long way to go before smallholders can harness all the perks of the digital economy.
Most Olam apps can be run using text messaging. But "internet coverage is still a challenge in some parts of the world, as is building local infrastructures so farmers can buy supplies digitally," says Mr Brayn-Smith.